Date Posted: December 6, 2022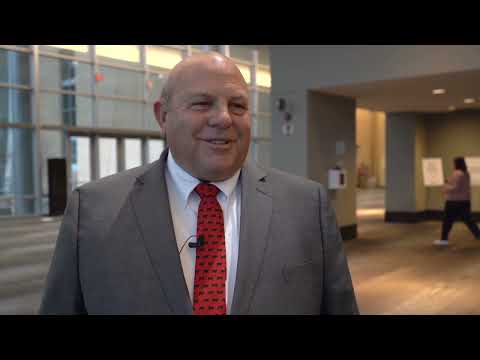 GRAND RAPIDS — Building relationships.
Farmers and ag leaders must embrace that role with new members of Congress on Farm Bureau topics or pivotal programs won't be realized, said American Farm Bureau Federation (AFBF) President Zippy Duvall.
The warning comes at a crucial time for American agriculture, given a possible price restructure to the Federal Milk Marketing Order (FMMO)) and prioritization of retaining and improving crop insurance programs as Congress begins drafting the 2023 farm bill.
"I want you to just think about the election we just went through," Duvall told Michigan Farm Bureau members during the organization's 103rd State Annual Meeting in Grand Rapids.
"We have hundreds of new congressmen coming to town, and as soon as they get in town, we're gonna start talking to them about the Farm Bill. They ain't going to have a clue. And then we got 88 (Congress officials) who weren't there the last time we passed a Farm Bill. Now you're talking about 238 congress people who don't even know what Farm Bill, farm problems are."
Duvall urged Michigan Farm Bureau members to invite those freshman members of Congress, including Reps.-elect Hillary Scholten, John James and Shri Thanedar, to their farms.
The Farm Bill is typically renewed every five years; it contained about $428 billion in program funding in the last version.
"If they aren't calling you by your first name, we're not going to be successful," Duvall said. "I'm telling you, (AFBF) is going to be there every day talking about your policy, introducing them to us. We need you to open up your farm and let them have that meeting. You need to tell them how crop insurance or conservation programs help save your farm."
Michigan Farm Bureau staff are already reaching out to the newly elected members of Congress, according to John Kran, national legislative counsel for MFB.
"Our goal is to meet with all 15 members of Congress and their staff in the new year and advocate for Farm Bureau's federal policy priorities," said Kran, noting Michigan represents 13 House of Representatives instead of 14 due to the latest census, plus the two senators. MFB also brings120-plus farmers to D.C. for the Washington Legislative Seminar in March and various leaders to the U.S. Capitol throughout the year.
"We'll also be working with our county Farm Bureau leaders and county public policy committees to meet with our newly elected in their districts — on a farm, at local meetings, and coffee shops to make a local connection and discuss the same policy issues."
Kran said Farm Bills are typically bipartisan matters and represent urban and rural districts alike — everything from nutrition to conservation to energy is detailed in program funding. Those negotiations will continue next year in D.C. with the end of September serving as a target finish date.
"When we meet with new legislators and their staff on our priorities, we may need to start with the basics, depending on their background knowledge of agriculture, but our goal is the same: We explain our members' priorities, answer questions, and help relate it to the district they represent," Kran said.
"It's also not uncommon to see staff turnover on Capitol Hill either — we are constantly meeting new people, developing those relationships and advocating for Farm Bureau policy."
Some major priorities in the 2023 Farm Bill include expanding risk management tools, addressing dairy safety-net programs, and offering more money for USDA conservation programming.
"The cost of production is way up, and we have to see if those (price) triggers are in the right spot," Duvall told Michigan Farm News regarding the FMMO. AFBF held the first-ever FMMO Forum in October to discuss some of the challenges, with all segments of the dairy industry —producers, cooperatives, and processors — in attendance.
This week MFB delegates approved dairy policy recommendations calling for reform measures to the FMMO to "make allowance" provisions. (See related MFB policy story here.) "Our focus right now is developing relationships with the new congressmen, trying to make sure they understand why the Farm Bill is important, why it should be hitched to nutrition, and why it's important to get it done next year and not delay," Duvall added.
Join the Farm Feed and get text-message alerts that'll keep you on the front lines, making quick contacts with legislators and regulatory officials. Act from the comfort of wherever you are at that moment; MFB will only text you when it's important.
Complete this short survey to let your county Farm Bureau know you're interested in learning more about their plans for build relationships with elected officials in 2023.
Share Story
Article Tags