Date Posted: June 27, 2023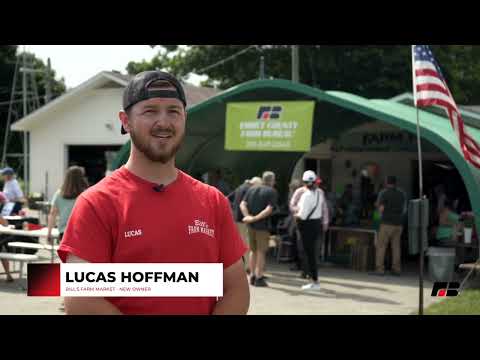 Cans of preserved jam, spreadable fruit, and jelly sit in the back.
Nearby, green bins of white, yellow and red onions.
A green bean here, a sweet potato there.
Scurrying around the produce, flowers, and smiling customers is 65-year-old Bill McMaster, longtime leader of the Emmet County Farm Bureau. After the handshakes, hugs and rearrangements of cut lavender, McMaster talked about the market he started 42 years ago, the Petoskey community, and Lucas Hoffman and family, who will be taking over the operation.
"Today, I'm stepping away from the business and transitioning it to the younger generation," McMaster told Michigan Farm News.
"Lucas is going to bring it to a whole new level, and he's going to be doing the same thing that we have always done — give customers great service while growing a great product."
Emmet County Farm Bureau and the city of Petoskey held a ribbon-cutting event June 21 to honor Bill's Farm Market in Petoskey, located about four miles from Little Traverse Bay. Twenty-eight fields of veggies and flowers surround the market, which has recently diversified to offer pumpkins and Christmas trees.
"It's good food that comes from our fields to your table," said Hoffman, 23, who's worked with McMaster and the market since he was 12 years old.
"You grow up working on the farm, and it's just it's in your blood. You can take the guy off the farm, but you can't take farm out of the guy, and that's just how it's been for me. I've been doing this forever. None of this is new, and I love it."
According to Hoffman, the public wants local food.
It's the market's job to provide it.
"Bill's meant a lot to me; he's almost been like another father to me," said Hoffman, an Emmet County Farm Bureau member. "He's done so much for me — just in helping me grow and learn through farming and life and business. I've just been trying to … give back to the community and Bill in every which way I can."
Taking over the business is one way he has, according to McMaster, who said the succession plan talks started about a year and a half ago.
"I want this to succeed," added Hoffman, a cousin of McMaster, "and I want to grow it so (Bill) can watch it grow into something beautiful."
A few minutes pass, and McMaster thanks his customers — the people he'll miss most.
"I love my customers," he said. "But I live in the white farmhouse next to the market, so I'll always have a chance to see them."
Share Story
Article Tags