Date Posted: September 28, 2023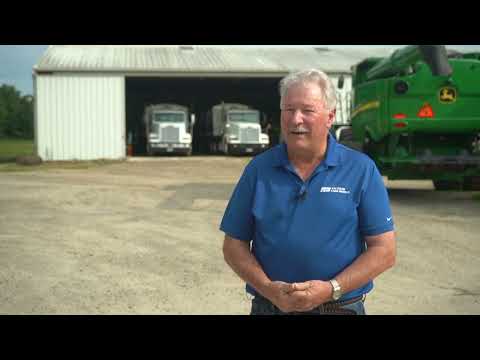 WILLIS — You've probably received a 2 a.m. email from him.
That nocturnal animal scrolling his eyes to a Ukraine supply-chain story to skiing feature to guitarist Jeff Beck playing Pavarotti's "Caruso."
In between John Deere combines and a 6.4-liter Ford F-350, Doug Darling circles the reporter and cameraman. He's the one asking questions, and he wants to know you better: Where have you skied? Do you like the Detroit Tigers as much as his mom? Do you believe in the religion that is five-minute guitar solos?
The questions stop.
Darling is retiring as an at-large director for Michigan Farm Bureau, a position he's held for more than two decades.
"It's been a privilege to serve the Farm Bureau members and Michigan agriculture in that capacity, but I love this industry and I love this organization. I look at it as succession planning, and there are some incredibly sharp leaders out there," said Darling, a Monroe County Farm Bureau member who grows 1,800 acres of corn, soybeans and wheat at Darling Farms LLC.
"They need time on the board to understand the diversity of our industry in Michigan, understand the workings of the Farm Bureau and understand the complexity of the insurance company."
According to Darling, 63, "This is for the industry of the future."
"I need to have these new leaders get in there, get acclimated, learn and get comfortable with it," he said. "There are some sharp fellas and ladies who need the opportunity to sit at the table."
Darling's table included seats at the Commission of Agriculture and Rural Development (1995-2007), World Trade Organization (1999), American Soybean Association (2019-present), Michigan FFA Alumni Board (1997), and Michigan Farm Bureau Insurance Board of Director (1990-95, 2006-23) among others.
The World Trade Organization meeting in Seattle allowed Darling to meet industry leaders, observe negotiations and sit with the Chinese agriculture ministry. He's visited seven different countries as an ag representative.
"The people we've met, the ideas we shared — boy, have we learned a lot," said Darling, who's won the Michigan Farm Bureau Outstanding Young Farmer and Discussion Meet, Michigan Corn Growers' state yield contest, and Milk Marketing Inc.'s Outstanding Young Cooperator.
"Relationships are what make things happen, whether you're talking about an issue in your community, when you go to Washington, or when it comes to global trade. We're trying to move products — 30% of what we grow in the state goes somewhere else."
Darling and wife Helen have three children, Ian, Dayton and Simon.
Outside agriculture, Darling races in an adult ski league at Mt. Brighton, attends Michigan State University sporting events, and "reads things in the middle of the night."
"I don't sleep well," Darling laughs, "and I'll blow my credibility when I confess that I've been clocked skiing on a radar gun twice at 60 mph."
Darling and son Dayton will continue farming in Monroe County.
MFB President Carl Bednarski said Darling often buzzed his phone on weekends.
"It was because he was reading something and he couldn't wait to send it to you," said the Tuscola County sugar beet grower.
"Doug has been a phenomenal resource — very smart, very witty. He takes farm policy to a different level. He really digs into it and wants to find out how it works — how it's going to affect not only his operation but agriculture in general.
"Doug is more of a big-picture guy: How's the farm bill going to affect this type of producer? And he's just constantly reading and digging up information. He's been a huge asset on the board, especially as a teacher to two new board members."
Down in Willis, Darling folds his hands like he's praying. He said the next at-large director should ask a lot of questions, not be shy, and "do it with a smile."
"A mind is like a parachute: It only works when it's open," Darling said.
Filling MFB board vacancies
If you're interested in running for the MFB Board of Directors, here is some basic information for your consideration:
At-large candidates are asked to submit their written profile and video by Oct. 15, 2023, so their names can be circulated to County Farm Bureaus and delegates for their consideration as early as possible.
The deadline for announcing your candidacy is Nov. 1, 2023. A standard form is required to be submitted by that day and is available from MFB Secretary Andy Kok,

[email protected]

.
More detailed information about MFB board member responsibilities is found at michfb.com/board-elections. Please read this before making your decision to be a candidate, as the responsibilities are significant.
Contact Kok directly for more information.
Share Story
Article Tags