Date Posted: March 29, 2023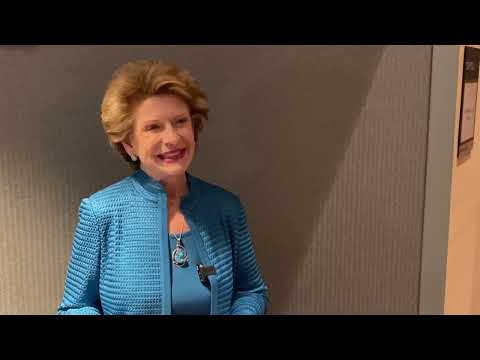 Congress is hashing out the 2023 Farm Bill, and Senate Ag Committee Chairwoman Debbie Stabenow gave MFB members a detailed update on where things stand during the recent Washington Legislative Seminar (WLS) in Washington, D.C.
Stabenow has been involved in six farm bills during her time as a lawmaker — including leading the passage of three farm bills — but this one will be her last. She announced she won't seek re-election in 2024.
Stabenow told Michigan Farm News that farm families need to engage with members of Congress and help educate them — particularly for members of the House, which has hundreds of new representatives.
"We have 240 people that have not voted on a farm bill in the past and a lot of them have very misconceived ideas," Stabenow said.
"They don't understand, this is about rural economies and quality of life, and that we have a farmer safety net and a family safety net — and they're both very, very important."
Just under 100 MFB members visited Capitol Hill on March 22 to meet with their representatives to talk about issues farmers are facing in their districts, as well as reinforce the importance of passing the farm bill.
Stabenow also discussed food programs and nutrition spending — which makes up a vast majority of the total farm bill — noting the average support per person in the farm bill averages $6.10 per day. She said it's "critical" that nutrition spending and agriculture-focused spending stay together in one bill.
"For every dollar you do to help folks get healthy food, it's $1.50 that goes back into the economy to support the food industry," Stabenow added.
"It's a win-win. It's right thing to do, morally for America and it's the right thing to do economically."
Check out the video above to hear Stabenow's thoughts on conservation programs, climate concerns and more.
Share Story
Article Tags